$34.99
AUD
Category: Cooking
This cookbook helps kids learn the basics of baking with simple but exciting desserts the whole family will love.Now your kids can bake their cake and eat it too (with a little help from mom and dad). There are so many reasons for a kid to celebrate and this book has desserts for every milestone, from F irst Day of School Smart Cookies and Family Road Trip Muddy Buddies to Fall Break Snickerdoodles and the Best Birthday Cupcakes.The Ultimate Kids' Baking Book makes it easy for your child to learn baking basics like how to use a mixer to cream butter and sugar, how to melt chocolate and make chocolate flourishes, and how to make their own buttercream frosting. Tiffany Dahle was inspired by her two growing daughters to create recipes for young bakers. Suitable for children 6 and up this book modifies recipes with a little parental involvement, like preheating or taking cakes from the oven, so that little bakers can take on more responsibility as they grow. With recipes for Hot Cocoa Cookies, Movie Night M&M Sandwich Cookies and Snow Day Peanut Butter Cereal Bars, these desserts are something the whole family can be proud of.This book contains 75 recipes and 75 photos. ...Show more
$39.99
AUD
Category: Cooking
In Venice you'll often hear the phrase Andiamo per un ombra? ('Shall we go for a drink?'). And it's this 'ombra', the Venetian name for a small tumbler of wine, that inspired Carlo Grossi's restaurant - a modern take on an authentic Italian salumi bar right in the bustling heart of Melbourne. Any time is a good time for a drink at Ombra, and when you step in the door at 76 Bourke Street you'll always find a warm and hospitable welcome (and something delicious to eat). It's an intimate, energetic place where all walks of life can drop by and come together over plates of finely cured meats and cheese, bringing with them a great sense of community - a community that thrives at the bar; that argues, loves and lives between slurps of white wine and Aperol. The Ombra cookbook brings together the very best of Carlo's food and hospitality, from lovingly aged meats and homemade sausages to mouth-watering pizzas, all sorts of irresistible bar snacks (cicchetti), hearty evening meals, fermented and pickled vegetables and fruits, and delectable desserts to finish off the evening. With family heirloom recipes and dishes inspired by Carlo's travels all over Italy, the Italian ideals of preservation and quality produce are on proud display in this collection of familiar and tasty food that's made for sharing over a lively conversation. So pull up a seat - it's time for un ombra!   ...Show more
$24.99
AUD
Category: Cooking
Synopsis coming soon.......
$39.99
AUD
Category: Cooking
Super Natural Simple celebrates the magic (and very real benefits!) of cooking with nutrient-dense plants, fruits, vegetables, whole grains and other natural foods.  In this artfully photographed collection, James Beard Award–winning author and beloved food writer Heidi Swanson presents more than 120 r ecipes with short ingredients lists, make-ahead techniques and clever methods. This is a cookbook that teaches us that staying connected to what we eat is one of the most effective ways to support our health and wellbeing. Super Natural Simple features recipes for make-ahead mornings, weeknight noodles, one-bowl baking, the best salads, nourishing soups and stews, easy-drinking refreshers, single skillets, sheet-pan meals and easy grills, while a power pantry provides the staples you'll want to have on hand. With beautiful photos of Heidi's sunny southern California lifestyle, Super Natural Simple makes eating well second nature. More than 120 whole-food, vegetarian recipes for quick weeknight meals full of flavour, spice, colour and nutrition.   ...Show more
$36.99
AUD
Category: Cooking
WW - a global wellness community powered by the world's leading weight-loss program - inspires healthy habits for life.For more than 55 years, WW has helped millions of people live more healthily and lose weight with the latest nutritional and behaviour-change science. The WW program teaches you a flexi ble approach to eating so you can lose weight and keep it off, without having to miss out.The WW Essential Guide to Healthy Eating provides you with:- 100+ of our most popular recipes, tried and tested by real members- Inspiring member success stories- The SmartPoints system explained- Science-backed expert advice on achieving sustainable weight loss- Practical tips for organising your kitchen, meal planning and making smart swaps when eating out.We hope this book becomes your ultimate guide to achieving your wellness and weight-loss goals.   ...Show more
$24.99
AUD
Category: Cooking
The ultimate guide to baking your own sourdough bread, Homemade Sourdough expertly guides you through every step of the process and beyond. Start, grow, and bake your own delicious, homemade sourdough bread, with or without commercial yeast! Homemade Sourdough is the ultimate guide to creating your own sourdough bread. Learn sourdough formulas and recipes and follow along as the author explains the science behind sourdough and provides a guide to the world of starters, wild yeasts, proofing, pre-ferments, and motherdough. You'll find dozens of delicious recipes, not just for bread but for other baked goods, from muffins to pizza crust to chocolate cake. Sourdough rises through the action of lactic acid, so it doesn't require store-bought yeast, but the sourdough starter method works beautifully with either commercial yeast or wild yeast. Sourdough bread baking is a great skill for a sustainable, self-sufficient lifestyle and provides the added health benefits of being made through fermentation. And if you are interested in lowering your intake of gluten, sourdough preparations can produce lively, tasty loaves with lower amounts of gluten than other methods. There is no better way to embrace heritage flavors and time-tested bread-baking techniques than with sourdough. Foodies, farmers, DIYers, and locavores-you will want to devour this book.   ...Show more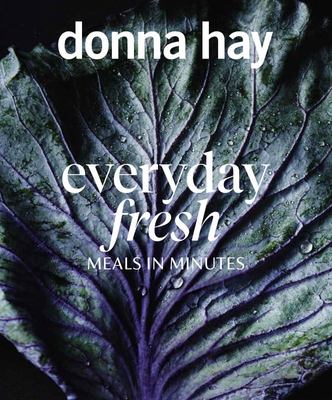 $45.00
AUD
Category: Cooking
From Australia's bestselling and most trust cook comes a stunning new book featuring super-fresh, super-fast recipes to help you feel nourished and energised ... and ready to savour life. 'One of the questions I get asked most frequently is if I still cook at home. The answer is yes. Absolutely. As oft en as possible.'There are days when it feels as though there's barely time to eat dinner, let alone prepare it. Donna knows on days like these, we all need a little Everyday Fresh in our lives. We all want to create delicious meals packed with flavour and everything that's good for us, with a minimum of fuss. And that's exactly what Donna Hay delivers. 'Simple made special' is the foundation of almost every recipe Donna has ever written. She's all about the classics, but also about a flexible, fresher approach to eating. She's constantly on the lookout for ways to make something easier, healthier, quicker or a little more on-trend - and she also loves a cheat, a quick-fix or anything that can be made in one bowl, that still tastes great. 'If I can create a dish that makes someone feel better because it's mouth-wateringly delicious, packed with nourishing vegetables, or helps them bring a little more balance to their life - that's success!' ...Show more
$39.99
AUD
Category: Cooking
Nothing beats slow cooking when it comes to convenience. With minimal preparation, simple ingredients and just one pot, you can set and forget, then enjoy hearty, wholesome meals every night of the week. Indulge in the joy of preparing simple, hearty, sustaining meals, with a healthy dose of family fav ourites in the mix, too. From tagines and tacos to pot roasts, pies and puddings, all recipes include conventional stovetop or oven instructions as well as those for slow-cooker machines. These dishes, even if they're new to you, will give you the warm, fuzzy feeling of having come home. So, it's time to roll up those sleeves, switch on the slow cooker or fire up the oven and get cooking. Slow cooking is clever cooking ... and, as they say, good things come to those who wait. Recipes include:- Eggplant and mushroom cottage pie- Slow-cooked honey-mustard salmon- One-pot chicken parmigiana- Japanese chicken curry- Pork and pineapple tacos- Spiced ginger beer ham hocks- Beef pho- Pot au feu- Greek lamb and risoni stew- Lamb biryani- Sticky date pudding- Lemon delicious   ...Show more
$35.00
AUD
Category: Cooking
 From heart-warming soups and bowls that nourish the soul, to cheesy bakes and mind-blowing curries that feed a crowd, this cookbook has something for everyone. There are tasty quick fixes for lunches and weeknights, clever ways to veganise classic dishes, and sweet treats that make perfect gifts. Plus a heap of information for living a plant-based life, including vegan hacks, super substitutes and pantry essentials. The recipes were gifted to Edgar's Mission by our kindness community: everyday home cooks, chefs and nutritionists who really care about the food on their plates. Oh, and a few celebrities, musicians and sportspeople have shared their go-to vegan recipes (thank you David Campbell, Osher Günsberg, Morgan Mitchell, Allday, DJ Tigerlilly and friends). Nothing makes us happier than being able to pass them on to you.   ...Show more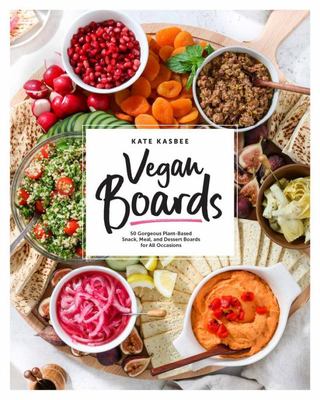 $24.99
AUD
Category: Cooking
The 50 plant-based boards and platters in Vegan Boards are incredibly beautiful to the eye and deliciously tempting to the palate.  
$49.99
AUD
Category: Cooking
The hotly anticipated new book from Bill Granger celebrates today's bright picture of Australian food - 20 years since he released the bestselling Sydney Food. In the 20 years since Bill Granger published his first book of recipes, Sydney Food, the world has fallen in love with the joyfully casual Aust ralian way of eating. As a self-taught cook, straight out of art school, Bill furnished his first street-corner eatery in minimalist style, serving a small but perfectly formed menu of domestic dishes around a central communal table. He captured the hearts of Sydneysiders and visitors alike, while setting an exciting new standard for cafe dining. Since then, Bill has been crowned the 'egg master of Sydney' (New York Times 2002), the 'king of breakfast' (The Telegraph Magazine, 2016), the 'creator of avocado toast' (Washington Post 2016) and 'the restaurateur most responsible for the Australian cafe's global reach' (The New Yorker 2018).Nowadays, from Sydney to Tokyo, and London to Seoul, queues form to enjoy ricotta hotcakes ('Sydney's most iconic dish' Good Food 2019), fluffy scrambled eggs, lively salads and punchy curries. It is a bright picture of Australian food that has travelled across the globe, packed with fresh flavours and local produce, healthy but never preachy, whose main ingredient seems to be sunshine itself. The plates at any of Bill's restaurants are more sophisticated today, reflecting decades of global experience and culinary creativity - but the warmth of atmosphere and joy of eating remain the same. ...Show more
$34.99
AUD
Category: Cooking
3-2-1 is a brand new way of cooking delicious food, that is completely life changing. Every recipe is formulated to contain 3 portions of fruit and vegetables per person, serving 2 people and all made in one pan. That's it! Curries, Stews, Traybakes, Casseroles, Salads and more. Take the effort out of c ooking and put health and enjoyment back in. 'Food and nutritional medicine play a crucial part in our general wellbeing - I've examined hundreds of academic studies that show which diets have the biggest health impact, which ingredients are best to include, as well as which cooking processes maintain nutritional quality.' Bestselling author and NHS medical doctor, Dr Rupy introduces his simple 3-2-1 formula, making it possible to easily cook healthy meals every single day. Following on from his two bestselling cookbooks, he builds on his message that the most important health intervention anyone can make is what you put on your plate. Containing over 100 recipes that taste spectacular, offering a streamlined cooking process, whilst ensuring health benefits to optimise wellbeing, 3-2-1 is an easy-to-follow health prescription. This daily 'dose' of fresh ingredients, quality fats, whole grains and plenty of fibre lowers the risk of disease. Guided by scientific evidence, Dr Rupy's core principles of healthy eating remain the same - keep plant focused, eat lots of fibre, plenty of colourful vegetables and whole foods. Each incredible tasting dish promises 3 portions of fruit and vegetables per person, 2 servings per meal and uses only 1 pan. Need 4 portions for a family? Just double the ingredients! As a busy doctor, Dr Rupy knows that one of the main reasons people choose not to cook at home is lack of TIME as well as the EFFORT to cook it. Each recipe is cleverly formulated to require only one pan, minimising the cooking process (as well as the washing up), and using as little equipment as possible - the majority only require a knife, chopping board and a cooking dish. Dr Rupy's practical and easy-to-use book promises gorgeous looking, flavourful dishes that consistently look after our bodies, helping to beat illness by optimising our food choices. This is a prescription to fill yourself, one delicious plate at a time. Share this formula for long lasting health and start cooking the 3-2-1 way! ...Show more